Details

Written by Stefan Häuser
On this page you will find up-to-date research, construction and research projects from www.nachrichtentruppe.de.
Ancient technique is usually not complete or in excellent condition. The tooth of time has usually already gnawed on it. Often, information about equipment or technical equipment is also missing. So this it is a very big task to restore and complete these nice pieces of history!
For this reason, many things out of the military-historical area will become (large) projects. This projects are perfect to gain experience, to understand the technology or simply to learn more about a topic.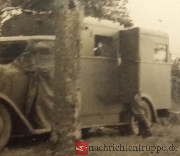 Wehrmacht Ersatz-Funkwagen (Replacement-radio-truck) - How a Citroen U23 becomes an Wehrmacht Kfz.61

Vitebsk 1944 - A german infantry Funker (radio operator) equipped with Feldfu.b1